Now that the calendar says spring, even though the weather is still saying winter, I've started to think about paddling again. Soon, I will be ordering my Packlite, and I'm going to need a pump to compliment this packable raft/kayak. I definitely won't be using the pump that I use for my AdvancedFrame kayak, which is the big yellow, double action, pump. It would only defeat the purpose of the Packlite being compact and easy to carry.
I've looked at a lot of pumps and, after considering all kinds, I've come up with, what I feel is a happy medium. I definitely prefer a pump that I can use with my arms, rather than a foot-type pump, and I know that there was mention of AE coming up with an air-bag type inflation device. However, I'm not too keen on the air-bag inflation devices, such as the one that the Alpacka rafts use.
I decided on a smaller pump made by Intex, and I picked up this one on ebay from England at a total cost of around $20.CAD
One has to consider, not only packable size, but pump volume. Although I don't mind the extra inflation time, it does have to be reasonable. This one, like the big one, is also double action.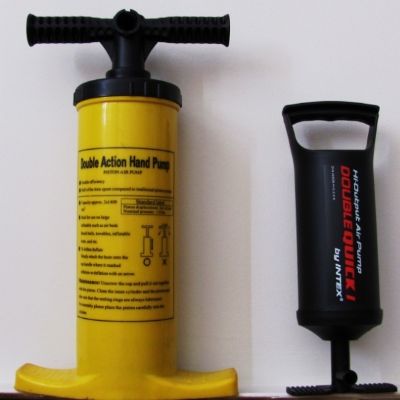 Here's how the two pumps compare. The big pump is about 15" tall, and about 8 1/2" at it's widest point. The Intex pump is about 11 1/2" tall, and about 4 1/4" at it's widest point.
From above, the size difference is even more apparent. I can see myself stashing this smaller pump into my backpack, along with the Packlite, paddle, and life vest, all things that I will need, if I'm going to pack this boat into remote locations.
To me, this is an acceptable compromise that I can live with. I never used to take that big yellow pump with me in my AdvancedFrame, but I will be able to take the smaller Intex pump along from now on. I will still use the bigger pump to inflate the AdvanceFrame initially though, because the job will go much faster.
I won't really know how much longer the inflation time will be, until I actually have my Packlite, but I'm thinking that it will be acceptable, taking into consideration the pumps pack-ability.